Office 365—Mason's Employee Email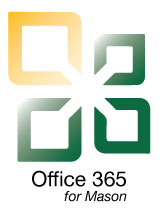 Welcome to Office 365!
Office 365 provides Mason's employees with email, calendar, and other productivity services. Please click on the Login to 365 button at the top of the left links to continue. You will login with your NetID and password.
Notices and Updates
STUDENT INFORMATION (MASONLIVE)
Student email is provided by the MASONLIVE system. For access to the student system, please go to masonlive.gmu.edu.
General Information
Need More Help?
The ITS Support Center can provide additional assistance.